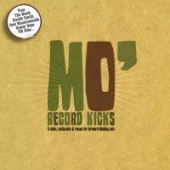 Various Artists
Mo' Record Kicks!
Label: Record Kicks
Genre: Freestyle / Nu Jazz / Funk / Afro
Availability
CD €15.99

Dispatched within 5-10 working days
Almost all tracks previously unreleased on CD/compilation.

MO' RECORD KICKS is a new compilation full of exclusive new singles from our established as well as newly signed artists together with remixes and b-sides previously available only on 7". Almost all tracks here see the light on CD and compilation for the first time. Amongst the cuts you'll only find here are "Don't judge a book by it's cover" a smashing new Northern Soul single by Big Boss Man bass player Scott Milson's new project The HAWK feat Little Hannah Collins, a Lack Of Afro revisitation of "Scaramunga" from the forthcoming RAY HARRIS & The Fusion Experience jazz dance album, a new single by Buenos Aires early-reggae kings The CRABS CORPORATION and two new singles from the funk queen of the moment GIZELLE SMITH, one of which features hammond beat kings The Link Quartet. Other exclusives on MO' RK are "summaluvcation" by Michigan's heavyweight funk and soul combo The THIRD COAST KINGS and "Red flames" taken from the forthcoming debut album of Cornwall combo The UNDERBELLY, featuring sensational Roxie Ray (Dojo Cuts) on vocals. In addition the compilation also contains remixes and unreleased tracks by folks such as New Mastersounds/Kenny Dope, Kokolo/Lack Of Afro, TM Juke, The Hi-Fly Orchestra and Soul Fantastics.

The result is an album that gives you the full spectrum of Record Kicks' sound; from deep funk and vintage soul to nu funk and big beats, from titty shakers to future disco, from early reggae to jazz-dance. A musical trip tailored expressively for forward-thinking listeners, cool dancefloors and funky feet! We hope you enjoy and thanks for following us!