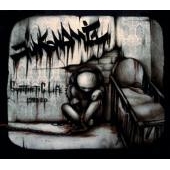 Funkonami1
Synthetic Life 1983
Label: Private Press
Genre: Electronica / Ambient / Experimental
Do you like Amen Breaks?Dub step rhythm combined with nostalgic melodies?Ultra vintage sounds from a Russian heavy machine-gun synthesizer?maybe theremin?Chopped Rap Joints?
In 1998 he started to learn the art of b-boying and he got addicted to funk, b-boy theme breaks, Soul, Afro-beat, Progressive Rock, electro Hip-Hop such as Lafayette Afro Band, Jackson 5, Curtis Mayfield, Bob James, Dennis Coffey O-Jays, Marvin Gaye, Hashim, Man Parish, Afrika Bambaataa, West Street Mob, Arthur Baker, and many more.

Unfortunately he had to stop dancing due to a serious injury. But his passion for music didn't stop there. On the contrary, digging for records was one of his favorite activities for a long period of time. It was during this time, in 2005 when he attempted his first mix session which had funk, soul, jazz and hip hop influences.

Djing and beat making soon became his passions and he managed to participate in events such as THHF 2006, European Music Day and several b-boy battles and gigs. Until now he has collaborated with artists such as DJ Unkut, N-Tone, Scratch Science, EPROM, ND and he have participated in loopers amongst several European, Japanese, Russian and USA djs. He is a member of B4B beat makers and he had the chance to perform in Paris and other countries. He has also produced beats for worldwide famous contests such as Wizard of Ahh, the Polish Vestax Skrecz battle and also he collaborated with the b-boy champions of Battle Of The Year Balkans 2008 "dead prezz" for their show ( see my video section )
Since 2008 and until today he is a proud member of the Greek hip hop Activist group Phase 3. He prefers not to use samples, but to create his own sounds from scratch.

As a producer he manipulates the basic signals (sines, squares, triangles) and puts his personal and unique signature combined with modulated (reversed, triggered, distorted etc) drums. Also, his main music synthesis is based on an analog synth modulator which he prefers to remain a secret.
Now he enjoys channeling his energy by travelling around Europe in order to meet people who share the same passions with him: music, beats and scratch!