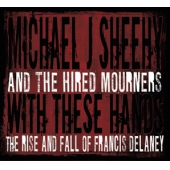 Sheehy Michael L
With These Hands
Label: Glitterhouse
Genre: Rock / Pop
Availability
CD Digi / Cardboard €17.99

Dispatched within 1-4 working days
"We'd always planned to expand the label in time with acts that we felt really passionate about. I'd followed Michael's career with great interest from his days with Dream City Film Club through his three superb solo albums on the Beggars Banquet label and always admired him as an artist. So when I learnt that he was looking for a label to license his new solo album I jumped at the opportunity. The fact that his new album 'Ghost On The Motorway' is absolutely breathtaking, brutal and brilliant was further incentive and confirmation that the time was right".
After releasing 6 magnificent and critically acclaimed albums on the Beggars Banquet label between 1997 – 2002 (3 as lead singer and guitarist with the amazing Dream City Film Club and 3 as a solo artist) Michael J Sheehy has built an extremely loyal and avid fan base throughout the UK, Europe and the USA via touring activities with the likes of Kristin Hersh, John Cale, Ed Harcourt, Tindersticks, Peter Murphy and Placebo.
'Ghost On The Motorway' is arguably his best work yet, with songs that traverse the dark side of country, folk, blues and rock'n'roll with a tender vocal presence that belies his often startling and debauched lyrical storytelling. Something that clearly attracted the music supervisors of American HBO drama 'Deadwood' who recently placed the song Twisted Little Man in the programme and accompanying album soundtrack.
You can hear traces of greats like Elvis, Tom Waits, Dr John, Nick Cave and Leonard Cohen pervading throughout a record full of brooding intimacy and intoxicating atmosphere.
Ghost On The Motorway is a record that takes you on a journey through sin, salvation, heaven, hell and back again. Hallelujah!