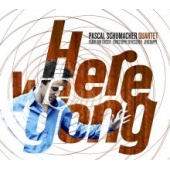 Schumacher Pascal Quartet
Here We Gong
Label: Enja
Genre: Jazz / Avant Garde
Availability
CD Digi / Cardboard €13.99

In Stock
"Here We Gong", the title of this album, goes back to a statement by composer Steve Reich. In Reich's "Music For 18 Musicians" the vibraphone is "a sort of conductor," Pascal Schumacher explains, "it always gives the motif – the same way as in gamelan music." In jazz, most vibraphonists came to the instrument from jazz drums or piano. Pascal Schumacher followed a different path: He had originally studied classical percussion – in Strasbourg, where the percussion class is legendary. Therefore Schumacher sounds different from other jazz vibist. His music works with complex insertions of motif, stratified arrangements, fractures, inversions, with ostinato passages, irregular metres and fragile, fleeting moods. His music does not just swing in four-beat bar.
"As a young Luxembourger in 2009, I see no sense in playing swinging jazz," says Pascal. "I'm not set in the mould of Luxembourg folk music either. I just have that classical background." The vibraphonist points to the influence of the New York classical underground, with groups like Bang On A Can. Also contemporary pop music is one of his sources of inspiration, for example British pop-rock bands like Coldplay, Snow Patrol or Travis ("Sing") with their sophisticated production technique and fiddling with the sound. One of his objectives is to achieve such an aesthetic of form by musical means alone, without lavish studio technology. "Our drummer Jens Düppe is very important for this. You might say that he imitates electronic sounds."
The music of the Pascal Schumacher Quartet does not stick to the conventional structural form of jazz pieces. The opener, "White Surface / Glace, Casse", tells a story in over eight minutes, which develops as a whole, goes through separate phases, strives for the heights and persists in episodes. "It's a picture of a perfect day on the ski slopes," reveals Pascal Schumacher, a passionate skier. "I got the programmatic idea from Richard Strauss's Alpine Symphony." With their slender, modern aesthetics the Pascal Schumacher Quartet will quickly conquer the international jazz scene. They are already well known in Luxembourg, Belgium (Django d'Or 2005, Best album 2007) and France (First Prize and Public Prize at Tremplin Jazz at Avignon 2004).