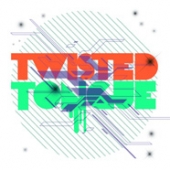 Twisted Tongue
Got A Really Good Thing
Label: Acid Jazz
Genre: Freestyle / Nu Jazz / Funk / Afro
Dave Jay is a one-time session musician who has spent much of the last two decades working for independent record labels such as Suburban Base, Freskanova and Acid Jazz alongside US majors such as Atlantic imprint Big Beat, whilst remixing acts as diverse as East 17 & The Freestylers. In 2001 he signed to Madonna's Maverick Records in the US as a member of Soul Hooligan, through which the band released the album Music Like Dirt and contributed to TV and movie soundtracks such as Austin Powers: Goldmember & Six Feet Under.
Dave subsequently left Soul Hooligan to concentrate on managing producer James Sanger (producer of albums for Keane and Siobhan Donaghy) during 2004, but resumed recording in 2005, and has since provided vocals for Andy Lewis' first two albums and collaborated with DJ Ray Mang (DFA / Mangled) whilst setting up his new music project, Twisted Tongue, alongside co-producer / engineer Mark Dalton.
As inspiration for their debut album – which features contributions from Noel McKoy (JTQ) & Elmore Judd's Criszuki – Mark & Dave decided to return to their musical roots, mining the spirit of '70's p-funk (Funkadelic) & psyche soul (Charles Stepney) as well as early '80's influences such as electrofunk (West Phillips, Junie Morrison) and the Minneapolis sound (Morris Day, The Time), mixing in distinctly modern production techniques to create a style that sits halfway between Seattle's Pigeonhed & NY / Atlanta's Gnarls Barkley.
Their debut single, Got A Really Good Thing, is somewhat of an anomaly on the album, forsaking the p-funk vibe altogether and instead taking as its basis an approach not dissimilar to that strain of '80's UK groups who co-opted classic soul and, through not being quite up to the musical standard of the heroes they were looking to emulate, somehow twisted it into a distinctly British, regional sound (bands such as The Teardrop Explodes, Soft Cell and Dexy's Midnight Runners).
And Twisted Tongue take the Teardrops' influence even further on the flipside, directly covering one of Julian Cope's solo tracks (Hanging Out and Hung Up on the Line, taken from his 1990 Peggy Suicide album) – in the process transforming it into a blissful slice of fuzzbox electropop.