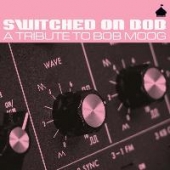 Various Artists
Switched On Bob - A Tribute To Bob Moog
Label: Cherry Red
Genre: Electronica / Ambient / Experimental
Moog and his glorious, poetic instruments are the historic foundation of electronic music. Switched on Bob is our tribute to Bob Moog. The concept started with the enthusiasm of Maurizio Er Man Mansueti (Transistors) with Luca Luke Cirillo (Transistors) and Paolo Bruno Margoni (Margoo) in september 2005 at the Transistors' Lab.
The original idea was to collect materials for a multimedia-CD with the participation of a selected group of artists that were each to contribute a piece inspired by Moog's huge influences on music, design, graphic illustration, or simply from the beautiful sounds of Moog's own instruments.
This is not a conventional compilation, but instead it is an authentic project dedicated to the father of modern synthesizers. So thanks to all the artists involved in this special project and to all those who were not included due to insufficient space!
The Transistors - Switched on Bob / Giorgio Li Calzi featuring Wolfgang Flur - Freakin Out / Funki Porcini - Moog River / Timeless Sonic Factory - The Day The Moog Stood Still / Dan Lacksman - Mr Moog / Margoo - Hipsters Shangri La / Eugene - Space 1979 (airless edit) / Mucca Macca – Sunflower / Enrico Cosimi - Soylent Green / Grand David - Harpex Delux / Jean - Jacques Perrey and Dana Countryman - Chicken On the Rocks / Dana Countryman - Cocktails In Space / Messer Chups - Zombie Pussy / Rural War Room - Rural War Room (TSF Supersonic Mix) / Mir - Xbb8 / Creamyshoes - Welcome Democracy / Alessio Santoni – Baobob / 9Lazy9 - The Flying Nun (remix) / Reverse E - Somebody build my bed / Misty Roses - Mario and Dario