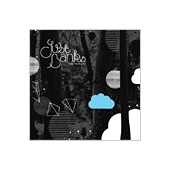 Just Banks
Under The Influence
Label: Etage Noir
Genre: Freestyle / Nu Jazz / Funk / Afro
Availability
CD €9.99 Second Hand

In Stock
The Austrian musician and multi-talent Just Banks demonstrates his remarkable versatility in debut album "Under the Influence": Hip-Hop, funk, jazz, breaks and a pinch of minimal house come together here in flowing and coherent whole. The musical frankness of the tunes is continued when various guest artists are invited to contribute vocals, solos or phrases.

This is an album that also reflects the development and background of a musician who started his career in the mid nineties and who has never been prepared to nail himself down to any one single genre since then. "Under the Influence" refers to all that wide range of contemporary musical genres Just Banks has opened himself to, explored, fallen in love with.

He spices a relaxed stew of downbeat, midtempo breaks and solid electronica on "Under the Influence" with vocals from the Blaktroniks, BluRum13 (as known from Dj Vadim & Ninjatune), Coppa, Kristina Lindberg (Laine), Veda36 and others.

In 2006 Just Banks engaged the talents of the Bay Area-based collective Blaktroniks, who came up with the catchy vocals for his first release on Etage Noir entitled 360 Degrees.

"Under The Influence" is now his first full-length album and it also includes the title track of his most successful EP to date Bust A Move.