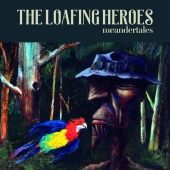 Loafing Heroes
Meandertales
Label: Loafing Heroes
Genre: Rock / Pop
Definition, attunement:

*meander [mee-an-der]
- a winding curve or bend of a river or road.
synonyms: bend, loop, curve, twist, turn, coil, zigzag, oxbow, convolution.
- an indirect or aimless journey.
synonyms: wander, ramble, stroll, saunter, amble.
- an ornamental pattern of winding or interlocking lines.

*tale [teyl]
- a narrative that relates the details of some real or imaginary event, incident, or case; story.

*neanderthal nē-​ˈan-​dər-​ˌtȯl]
- relating to a type of primitive people who lived in Europe and Asia from about 150,000 to 30,000 years ago.

*me-and-der tales: me and der [Ger.] / their [Eng.] / the tales.

*me-ander-tales: me – other [Ger.] tales.

*"The meandertale, aloss and again, of our old Heidenburgh in the days when Head-in-Clouds walked the earth."
– James Joyce, Finnegans Wake.

Recorded and mixed in UFO Studios in Berlin by Tadklimp, The Loafing Heroes' latest album opens with Incantation which incorporates invocations from the ancient poet Amergin in the mythical creation and dreaming up of Ireland. Two songs on the record have Irish language titles: Sidhe – which can mean 'fairy or 'fairy-mound'; and an instrumental track Ragaire – which means 'night rambler'. There are new songwriting and lead vocal contributions from Giulia Gallina on three of the songs – in the pulsing track Wind, in the slower autoharp-driven track Apollo, and in the apocalyptic Silence. Ryan delves into distorted fairytale territory in songs such as Stairs (the first single from the album), Alchemy and Butterfly. Intruder offers a paradoxical combination of affirmative rhythmic music alongside anti-colonialism lyrics; while Jaguar has all members playing percussion and taking the listener on a sonic trip. Forest is the final track which is a consciously indefinite and indeterminate conclusion, meandering and opening up different spaces in sound textures and spoken word.