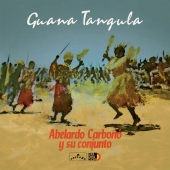 Carbono Abelardo
Guana Tangula
Label: Vampisoul
Genre: World Music
Availability
LP €24.99

Dispatched within 5-10 working days
Colombian music has its true originals, rebels and geniuses. Many have commercial pop sensibilities, good luck, and achieve stardom in their time. Others have not been so lucky and are just a little too original and outside the norm to be widely accepted or well known. Thankfully, if they were lucky enough to find a sympathetic record label, their pioneering work at least found a home. Such is the case with Abelardo Carbonó who, despite thinking 'outside-the-box', was able to record two brilliant albums in 1980 and '81 for Codiscos' imprint Costeño, as well as several other labels, his first being Africa llama under the band name Grupo Abharca for the Sonolux imprint Caliente in 1978.

Guitarist, singer, songwriter and one time policeman Abelardo Carbonó (b. 1948, Ciénaga, Magdalena) hails from Baranquilla and his early work was different from his contemporaries. It was definitely not salsa, nor was it really cumbia. Rather, it was novel and genius polyglot stew of diverse musical strains with African roots but never before blended in this way. Styles like afrobeat, soukous and highlife were effortlessly stirred

together with elements of the Cuban son, touches of Latin rock and funk, with a pinch of calypso, a hint of Haitian compas and even a dash of rock and roll, not to mention a foundation of local coastal Colombian varieties like vallenato and porro. Carbonó himself has admitted that Venezuelan psychedelic afro-rock outfit Grupo Bota was a big influence as well, and his father Abelardo Sr. was a famous porro and cumbia guitarist in Los Tigrillos, which must have affected Abelardo Jr. from the beginning. You can even hear slide guitar and psychedelic echo effects in the mix, which brings the recordings to a whole other level of the unexpected.