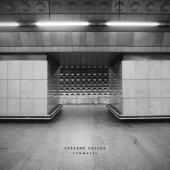 Paradox Obscur
Synthesis
Label: Young And Cold Records
Genre: Electro / Electro-Rock
Back in 2007, singer - composer Kriistal Ann was diagnosed with AS, resulting in a gradual decline in her quality of life and mobility. The willpower led her to break the spell, uniting the power with her companion Toxic Razor, so they devoted themselves to their absolute love for music. Around 2013 they started working on the first tracks for Paradox Obscur project.
As the initial public reaction was particularly enthusiastic, they were soon invited to travel to Europe to play at various festivals and venues gaining fans of their electronic - analogue sound throughout the world. Her charismatic and intimate voice, combined with their groovy & rough electronic sound, made the subculture rocking.
'SYNΘESIS' is their fourth album inspired by the mysterious composition of the human nous, as well as the power that positive vision can bring to human lifting. The real time recordings for each of their albums capturing the essence and magic of the moment without any use of additional DAW's or Plug-ins in order to stay loyal to the real old school feeling & vibe, consists as a true trademark of PO.