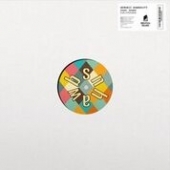 Demonic Downshift
Shawn: Bhawns
Label: Biblioteka
Genre: Electronica / Ambient / Experimental
Shawn: bhawns ​ is London-based George Malamidis's first full length recording under the name Demonic Downshift, taking Biblioteka back to its experimental roots.

With the majority of the sounds on the album painstakingly produced on a handful of analogue monosynths, ​Shawn: bhawns ​ is rooted in cinematic electronica, with horror and sci fi movie themes torn by noise, mangled field recordings, the ghosts of beats and distorted bass. Firmly dark, sometimes sinister but not entirely without pockets of optimism, fans of John Cage, Sarah Davachi and Alessandro Cortini will feel right at home with ​Shawn:bhawns ​ .
Shawn: bhawns ​ offers 8 unique tracks, each wonderfully weird and layered with meaning. Powerful experimental music can be hard to come by, but Demonic Downshift's use of vocal samples, cuts, and monosynths has made ​Shawn: bhawns ​ a "can't miss" album for anyone with even a passing interest in avant garde noise.

Elsewhere, Demonic Downshift is known for being one third of notoriously enigmatic experimental rock group 2 by bukowski.