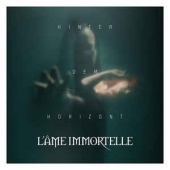 L' Ame Immortelle
Hinter Dem Horizont
Label: Trisol
Genre: Dark / Post Punk / Gothic / Neo-Folk
Availability
CD €15.99

Dispatched within 5-10 working days
Art and death are forever intertwined. Painting, literature, music, they all can't avoid the grim reapers' shadow, they all erected mighty cathedrals in his name. A band that has dealt with death time and time again in the most touching of ways, thus delivering thoroughly monumental efforts, are L'ÂME IMMORTELLE. In this respect, "Hinter dem Horizont" is their opus magnum.

What L'ÂME IMMORTELLE achieve in 2018 is nothing short of the perfect symbiosis between their very early days, their knack for stirring ballads and their lust for experimenting. Already the opening track "Unendlich" could easily come off "In einer Zukunft aus Tränen und Stahl" while "Dein Kuss" seems to be an echo from the unforgettable days of "Wenn der letzte Schatten fällt". Never the ones for stagnating, Sonja Kraushofer and Thomas Rainer show their love of THE CURE in their "Disintegration" era with the stunning "Am Ende aller Tage". Most remarkable, though, is how it all blends into each other quite seamlessly, quite effortlessly, harmoniously uniting the different eras in their archetypical and dark, yet dynamic, exhilarating and opulent sound. L'ÂME IMMORTELLE have reinvented themselves without abandoning their beloved virtues. Yet again! What's more, they deliver the next throbbing club hit with the almighty "Treiben".

"Hinter dem Horizont" is a new manifesto for the dark scene, a thoroughly enchanted piece of music breathing Gothic in its purest form as well as pushing the envelope in form and content. Empathic, melancholic and thoughtful, Kraushofer and Rainer contemplate infirmity, death and mourning as they enter a sombre world. Yet there is hope, yet there is strength, the will to carry on. To seek and to find beauty in transience. They are not the first to do so. It has been long, however, since death has been touched upon so delicately, so true and sensitive as L'ÂME IMMORTELLE do. A true masterpiece even in a stunning vita like theirs, a collection of songs that will leave no heart untouched.