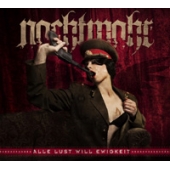 Nachtmahr
Alle Lust Will Ewigkeit'
Label: Trisol
Genre: Electro-Industrial
Availability
CD Digi / Cardboard €14.99

Dispatched within 5-10 working days
The nightmare of this crisis-ridden world has only just begun as L'AME IMMORTELLE mastermind Thomas Rainer's industrial formation once more undergoes a revolution in style. After he transformed himself with the preceding albums and the cult single 'Katharsis' into the wildly-accaimed 'dance dictator' of international concert halls and clubs, he now returns with a triumphant and unified work of art which only now properly inaugurates the 'war on the dancefloor': 'Alle Lust will Ewigkeit' conjures up in its title the cyclical philosophy of Friedrich Nietzsche, and thus it becomes clear: NACHTMAHR doesn't bring back the shattered memory of past times; NACHTMAHR is much more a state of being: dressed in the garments of the warrior, they celebrate the rumbling storm of the beats as their eternal flame of desire and sin.

More than ever, sexuality seeps into in this work. Whilst in the booklet the NACHTMAHR girls loll around provocatively, with a song such as 'Sklave' (in English, 'Slave') one conjures up sadomasochistic scenarios. NACHTMAHR's musical 'will to power' reaches a higher level: the 'vendetta' will silence the sceptic, the 'Code Red' for those who falsely believed themselves to be in the final moments of tranquility. NACHTMAHR whet the blade with a new battle cry: "Because I can!"

Among the pounding EBM beats and the rasping industrial noise, NACHTMAHR have dusted themselves down and do the dance of decay from Moscow to Berlin all the while inflaming the greedy mob. Because 'Alle Lust will Ewigkeit'!