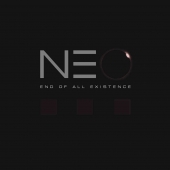 Near Earth Orbit
End Of All Existence
Label: Solar Lodge
Genre: Dark / Post Punk / Gothic / Neo-Folk
Availability
CD Digi / Cardboard €14.49

Dispatched within 5-10 working days
Coming in special deluxe, limited [1'500] media-book digipak with 24 pages booklet!
Epilogue (2034-03-16, 1am CET) - A warning from the future. This is a digital radio transmission from the year 2034. We have managed to build a device, which enables us to transmit a simple audio signal back into the past. By the time this frequency reaches your time we will no longer be alive. Please do not ignore the warnings from this channel! Make the leaders of your world aware of the impending threat. The Gods are about to return! (www.NearEarthOrbit.org)
END OF ALL EXISTENCE. What if, one day, foreboding turns into reality? What if no "reboot manual" were available for such an event? What if some unknown technology were employed in the manipulation of mankind? What if as a result the very foundation of our existence, planet Earth would become gradually misanthropic and uninhabitable? What if we knew that Earth is controlled from somewhere in the depths of interstellar space? And what if we knew the timeline for the extinction event of all existence… 16th March 2034.
Here it is – the first audio-visual oeuvre from the two sound architects Artaud Seth and Ashley Dayour. END OF ALL EXISTENCE is an intriguing and altogether alien, filled with apocalyptic doom and uncompromising loneliness. Tuned-down guitars, exoplanetary soundscapes and haunting otherworldly melody, perfectly arranged and produced. In a most hypnotic manner it provides "End of all Existence" with sufficient scope to develop.
NEAR EARTH ORBIT delivers a bombastic blockbuster and masterpiece comprising a perfect mixture of post-apocalypse, paranoia and fiction. Cult! Mind is the only constant of all existence!