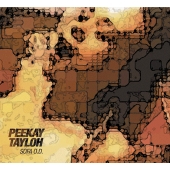 Peekay Tayloh
Sofa O.d.
Label: Poeta Negra
Genre: Electronica / Ambient / Experimental
Availability
CD Digi / Cardboard €6.99 Nice Price

In Stock
Pantelis Kakaroglou, alias Peekay Tayloh, has been working systematically through the last years with intense rhythms and a passionate spirit on a work that mirrors his great love for electronica, breaks and jazz music. Having a freeform musical perception, he renders a series of narrative and kaleidoscopic compositions that refer to the likes of Amon Tobin, Neotropic, Squarepusher and Future Sound of London. With a deep and cinematographic aspect, the artist shifts from lyrical phrases to industrial sounds and from ethereal environments to grotesque bursts. Neural city scapes are combined with an esoteric sense and also a Mediterranean touch. 'Sofa O.D.' ends with a bonus track, a fabulous and sensational remix of the track 'The Hole you are inn', by the thrilling German group Beefcake (TBC, Hymen Records). The album was mastered by Beefcake's Volker Kahl.