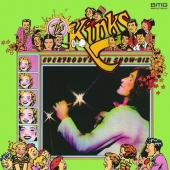 Kinks
Everybody's In Show-biz / Everybody's A Star
Label: Bmg
Genre: 60s / 70s Rock / Pop / Progressive / Kraut
Availability
LP x2 €32.99

Dispatched within 5-10 working days
The Kinks', Everybody's In Show-Biz – Everybody's A Star 1971 classic album has been remastered from the original audio source for the album's 50th Anniversary.

Everybody's in Show-Biz is a double album with one record devoted to stories from the road and another devoted to songs from the road

All audio has been produced by Ray Davies and remastered by Kinks experts Kevin Gray at Cohearant.

LP - Expertly recreated and retouched original artwork with gatefold sleeve.