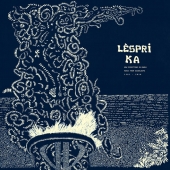 Various Artists
Lespri Ka : New Directions In Gwoka Music From Guadeloupe 1981​-​2010
Label: Time Capsule
Genre: World Music
The innovative, radical soul of Guadeloupe explored across thirty years of contemporary gwoka music, released by Time Capsule and Séance Centre.

As Guadeloupean vocalist and composer Marie-Line Dahomay writes in her liner notes to the compilation, gwoka is more than a style of music, it is "a way of living and thinking."

Rooted in the social, musical and ritual practices of enslaved African people and their descendants on Guadeloupe, gwoka has always sought to express the spirit of independence and resistance authentic to the island.

Building on its traditional call-and-response form and the ideas of pivotal figures like Gérard Lockel and Christian Laviso, modern gwoka evolved throughout the second half of the twentieth century to include funk, jazz and electronic influences.

Defined by its propensity for innovation and experimentation, this compilation charts the most radical changes to modern gwoka, capturing a sensory riot of traditional répertoires, rhythms and makè techniques fused with a rich seam of genre-defying experimentation.

Whether heard in the deeply cosmic, spiritual music of Dao, Freydy Doressamy and Gaoulé Mizik, or the jazz funk inflections of Gui Konket and Horizon, the music here is united by the feeling of santiman ka, crucial not only to gwoka music but the identity of Guadeloupe at large.

As co-curator Cédric Lassonde writes: "What unifies these selections is the depth of the compositions, the experimentation around the santiman ka, and the spirit of resistance and liberation against slavery, be it modern or ancestral. With a thirst for innovation typical of the island's creole culture, the ka spirit is deeply rooted in collective history and in a quest for identity."

Co-curator Brandon Hocura continues: "The creative energy of these musicians is powerful and demonstrates a universal pursuit of resistance, freedom and identity. Their voices are distinct, but the chorus rises high and carries their message far across the sea."

Released on double LP, Lèsprit Ka: New Directions in Gwoka Music from Guadeloupe 1981-2010 is the first compilation of its kind to bring the sound of modern gwoka to a wider audience, with many of the musicians features still active today.

Presented with typical attention to detail, the release features a specially commissioned essay by Guadeloupean musician Marie-Line Dahomey, and extensive liner notes from the curators.

True to the hybrid nature of the music, the compilation seeks not to provide a definitive sound, but express the variety of contemporary forms gwoka has grown to take. Just as Guadeloupean trailblazers Kassav fused gwoka with funk and cadence to create zouk, so did the musicians on this collection push gwoka in new directions rarely heard beyond its shores.

In the words of Gérard Lockel, "gwoka is the soul of Guadeloupe".