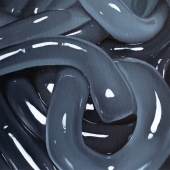 Boris
W
Label: Sacred Bones
Genre: Post Rock / Avant Rock
In an effort to sublimate the negative energy surrounding everyone in 2020, legendary Japanese post-rock band Boris focused all of their energy creatively and turned out the most extreme album of their long and widely celebrated career, NO. The band self-released the album, desiring to get it out as quickly as possible but intentionally called the final track on the album "Interlude" with anticipation of a follow-up.

The follow-up comes with W the band's debut album for their new label Sacred Bones Records. The record opens with the same melody as "Interlude" in a piece titled "I want to go to the side where you can touch..." and in contrast to the ex- treme sounds found on NO, this new album whispers into the listener's ear with a trembling hazy sound meant to awaken sensation.

On all of W Wata carries the lead vocal duties. In general the styles on the album range from noise to new age, as is typical with one of our generation's most dynamic and adventurous bands, but there is thread of melodic deliberation through each song that successfully accomplishes the band's goal of eliciting deep sensation. Be it through epic sludgey riffs, angelic vocal reverberations or the seduction of their off-kilter percussion, Boris will have you fully under their spell.

NO and W weave together to form NOW, a duo of releases that respond to one another. In following their hardest album with this sensuous thundering masterpiece they are creating a continuous circle of harshness and healing, one that seems more relevant now than ever and shows the band operating at an apex of their musical career.