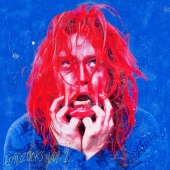 Jones Caleb Landry
Gadzooks Vol. 1
Label: Sacred Bones
Genre: Rock / Pop
Availability
LP + MP3 COUPON €23.99

Dispatched within 5-10 working days
Other Formats
Caleb Landry Jones is a continual creator. The Texan born star found fame as an actor – you'll recognise him from key roles in X-Men: First Class, Three Billboards Outside Ebbing, Missouri, amongst others – but music is perhaps his first love, and his source of greatest comfort. A chance encounter with famed auteur Jim Jarmusch brought him into the orbit of Sacred Bones, and the stalwart independent released Caleb's 2020 debut album 'The Mother Stone'. Psychedelic in a defiantly non-retro way, this indulgent, freewheeling trip won critical acclaim, but masked a secret – he'd already finished another album.

Filming alongside Tom Hanks in dystopian themed Finch, Caleb found himself writing during those long evenings after the shoot in locations across New Mexico, idling away his hours by focussing on creativity. "I need it," he says. "I've tried working without it. On one acting job, I intentionally didn't bring a guitar to try and do it without music… but that didn't last long. I need to create something – it could be a drawing, it could be a song – because otherwise I feel like I'm wasting time. Which is something I do plenty of on my own!"

With his creative faculties burning, Caleb knew he had to get straight back into the studio when filming stopped. Linking with the same cast who formed 'The Mother Stone', he resumed his partnership with producer Nic Jodoin, based out of the elegant Valentine Recording Studio in Los Angeles. A studio steeped in history – everyone from Bing Crosby to Frank Zappa worked there – he interrupted mixing sessions for his own debut album in order to focus on something different.

"I knew I could make something a little more focussed, and less difficult. And this became an experiment," he explains. "We wanted to do something we hadn't done on the last one and also get a slightly different sound."

Producer Nic Jodoin was key to the process – the pair's relationship was deepened by their experiences on his debut. "I mean, technically, he's a genius," Caleb gushes. "I think we were able to trust each other more on things and go down the rabbit hole faster. We had more faith in ourselves."

'Gadzooks Vol. 1' is unlike anything you've heard before – comparisons range from Skip Spence's fractured masterpiece 'Oar' through to skewed troubadour Robyn Hitchcock, via John Lennon's black moods on 'The White Album' and Frank Zappa's caustic surrealism. Recording to tape, Caleb would hack away at each take, re-assembling the songs like Escher diagrams. "It's like when you're swimming in the pool," he smiles, "and you're doing a bit of butterfly, and then that gets old after a while. So then you start doing breaststroke, and then that gets old after a while. I think it's just a reaction from the place where we were before."

Part of a flood-tide of creativity – as its title suggests, a second half to this album is already on the horizon – 'Gadzooks Vol. 1' is thrilling, shocking, and wonderfully entertaining. Each song starts and finishes in entirely unique places, often totally divorced from each other. "I'm trying to write something very simple," he says. "And it gets really abstract because I don't know any other way."

Red vinyl.