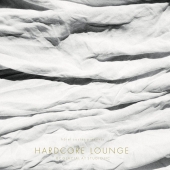 Glacial
Hardcore Lounge
Label: Studio Hc
Genre: Electronica / Ambient / Experimental
Availability
LP €21.99

Dispatched within 5-10 working days
The "Hôtel Costes Presents" series returns this March with "Hardcore Lounge", the new album by Greek duo Glacial, comprise of eight original tracks and a special collaboration with the well-know star singer Giorgos Mazonakis.

Glacial is the joint project of renowned Greek techno/house producer Lemos and saxophonist/experimental artist Ilan Manouach. The duo released their debut album back in 2012 via the former "Costes Presente" series, picking up support along the way from Ricardo Villalobos who called it "the album of his dreams". With this new album, the band is back together for a release on the new "Hotel Costes Presents" series, once again delivering their inimitable twist on jazz-infused electronic music.

The focal point from the album comes in the shape of "Den Ime Ego", which sees Glacial collaborating with one of Greece's most infamous pop singers, Giorgos Mazonakis, to create a cinematic composition driven by emotive strings, jazzy drums and airy sax tones alongside Mazonakis haunting vocals.