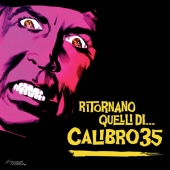 Calibro 35
Ritornalo Quelli Di ...
Label: Record Kicks
Genre: Freestyle / Nu Jazz / Funk / Afro
Availability
LP x2 +MP3 COUPON €26.99

Out of Stock
The second Calibro 35's album is another funk-filled journey through the grime-stricken underbelly of Italy's B-movie crime scene, full of fuzzed-out guitars, distorted organs, and dark, brooding bass lines. The attention to detail is staggering as always. Expect a heady brew of jazz, fuzz guitars and funky grooves that perfectly recreate a seedy world of undercover cops, femme fatales and car chases. Originally released in 2010 in Italy and USA the LP is highly in-demand by collectors and soundtrack aficionados worldwide and finally a reissue sees the light of day on a limited edition Gatefold LP that includes digital download of the new bonus tracks.