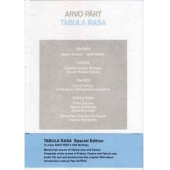 Arvo Part
Tabula Rasa - Special Edition
Label: Ecm
Genre: Jazz / Avant Garde
Availability
BOOK + CD €31.99

In Stock
Special Edition to mark Arvo Part's 75th Birthday
Book with a hard cover and 208 pages, wrapped in a light blue paper band. Music scores of all four compositions of the album. Previously unreleased facsimile of Arvo Pärt's autographs of "Tabula rasa" and "Cantus". Introductory essay by Paul Grifftiths. Exclusive photographs from the ECM archive. All texts in English and German.

In 1984, ECM brought a new sound into the musical world with the release of Arvo Pärt's Tabula rasa, the first album on the label's New Series imprint.Now, on the occasion of Pärt's 75th birthday, this special edition with enclosed CD has been produced by ECM in collaboration with the composer's publisher, Universal Edition. It includes previously unpublished manuscript scores of Tabula rasa and Cantus in Memory of Benjamin Britten, and study scores of the album's four works, as well as Wolfgang Sandner's 1984 liner essay, and a new introductory note for this edition by Paul Griffiths. Rounding off the volume is a discography of Arvo Pärt's works on ECM with corresponding publishing details.