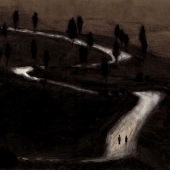 Vergessenheit
Songbook
Label: Outlandish
Genre: Jazz / Avant Garde
VERGESSENHEIT is the project of Kostas Kakouris (pianist, composer) and Anastasis Grivas (experimental sound artist). Under the special requirements of each concept they invite to participate different artists who bring their own ideas, attitudes and arrangements. ''Vergessenheit'' is a German word for ''Forgetfulness'', "Oblivion" and it is a term introduced by German philosopher Martin Heidegger in order to define the present state of the "Question of Being".

SONGBOOK, contains a traditional irish folk song in two different covers and seven others on poetry by William Butler Yeats, William Ernest Henley and lyrics by Susanne Wieser & Vasilis Athanasiadis.
PARTICIPATED: Kostas Kakouris (piano, organ), Anastasis Grivas (loops, electronics), Stavros Parginos (cello, lute), Nicoleta Chatzopoulou (viola da gamba), Michalis Kavadias (el. guitar, el. bass), Susanne Wieser, Lito Messini, Katerina Papachristou, Nikos Saligaros (vocals)

I. SONGS ABOUT LOVE AND DESPRAIR
1.Black is the color-Nikos Saligaros(vocals), 2.Reh Na Hoh-Susanne Wieser (vocals), 3.Longing- Katerina Papachristou(vocals), 4. Invictus-Susanne Wieser (vocals)
II. SONGS ABOUT NOTHING
5. A Fire Long Dead-Katerina Papachristou(vocals), 6. Wer Wandert-Susanne Wieser (vocals), 7. Pale Dream (for Nico)-Susanne Wieser (vocals), 8. Loss-Lito Messini (vocals) + Longing (alternative version - Vasilis Athanasiadis)
Recording sessions were made between May 2015 and July 2017
Recording, mixing, mastering by Vangelis Fampas in ΑΚΡΟΝ STUDIO. Artwork by Maria Platia. Front cover painting by Amelie Bolofi. The painting was inspired by a photo titled
Toscana, 1965,by Gianni Berengo Gardin.