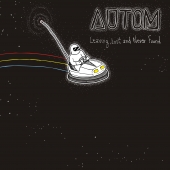 Autom
Leaving, Lost And Never Found
Label: Roxane Music
Genre: Rock / Pop
Availability
CD Digi / Cardboard €7.99

In Stock
AUTOM is a band from Thessaloniki, Greece, formed by Thodoris Arampatzis (Sleepin Pillow), Paris Vasileiadis (Sleepin Pillow), Alex Archodis (Giannis Aggelakas, Dive In Denial), Kostas Evangelou (Solar Music Library).
Through this new project, AUTOM found a chance to express a different approach and taste in music, producing something groovy, new and unique. Their sound is a blend of indie rock and pop sounds dressed in electronic vibes and atmospheric landscapes. "Break Your Heart" is the first ever single and video from the band's debut album, titled "Leaving, lost and never found". Their second radio single "A Dream" is a unique alternative dance rock anthem!
Some others extremely shining moments of the album are the entitled track "Leaving, Lost and Never Found", "Faint Illusion", "Irresistible", "Midnight Sky" and "Nothing Special"! Just discover AUTOM's music and their characteristic melodies, their beautiful rhythm sections and sounds, but most of all, get to know a band and an album made with a lot of passion and love.
The album was mixed at Magnanimous Recording Studio by Nik Logiotatidis and was mastered by Dave Collins, well-known with his collaborations with Metallica, Alice in Chains and many more.