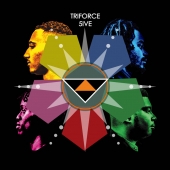 Triforce
Triforce 5ive
Label: Jazz Re:freshed
Genre: Freestyle / Nu Jazz / Funk / Afro
With an average age of 19 when the album was released, TriForce is a jazz-infused band coming out of a vibrant London live music scene. Dominic Canning, Ricco Komolafe and Benjamin Appiah came together at Middlesex University finding a common interest in the music of Thundercat, J Dilla, Austin Peralta and Frankie Knuckles.

The exciting guitarist, Mansur Brown (who featured heavily on Yussef Kamaal's debut album 'Black Focus'), completes the band line-up that has already made themselves within London's alternative jazz community, due in no small part to their raw youthful energy.

In their own words, The driving force behind TriForce are the values we take into our everyday lives. Creativity, innovation and empowerment...people have done Hip Hop...swing...RnB, it's time for it to go somewhere else. It's time for it to be elevated....It's now the UK's turn to show what we have to offer.