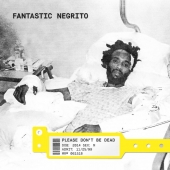 Fantastic Negrito
Please Don't Be Dead
Label: Cooking Vinyl
Genre: Rock / Pop
Availability
LP + MP3 COUPON €20.99

Out of Stock
Other Formats
Fantastic Negrito is the incarnation of a musician who is reborn after going through a lot of awful difficult stages. In fact, the name Fantastic Negrito represents his third rebirth, literally coming back from death this time. The narrative on this man is as important as the sound, because the narrative is the sound.

In his teens, Xavier ran the streets of Oakland, before finding music and eventually signing with Prince's management. After a slow recovery from a car crash that left him in a coma, Xavier undertook several different musical alter egos, but in the end, he walked away from music — only to re-emerge years later as Fantastic Negrito.

Songs born from a long hard life channeled through black roots music. Slide guitar, drums, piano. Urgent, desperate, edgy. Fantastic Negrito is the story of a man who struggled to "make it", who "got it", and who lost it all. For anyone who ever felt like it was over yet hoped it wasn't, this is your music; blues harnessed, forged in realness. For anyone who ever considered getting their old high-school band back together, this is your inspiration. These are singular songs by a true musician who writes and produces. They are his fuel as he embarks on the third comeback of his life.

A performer with something to say, Fantastic Negrito runs an arts-collective in his hometown of Oakland, and performed at Bernie Sanders' rallies in New Hampshire, Las Vegas and San Francisco during the 2016 US Presidential campaign. Of the new songs, he says, "We must unify — not divide — along the lines of our differences. We have a common enemy: distraction and propaganda. Our strength is in our diversity. We push back against our common enemies: fear, hate, bigotry, misogyny, racism, sexism, homophobia, xenophobia, classism… these parasites, these carcinogens that live in the shadows of our society. One world, one love, one race." In 2017, Fantastico Negrito wins first Grammy for best Contemporary Blues Album.