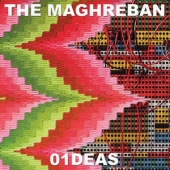 Maghreban
01deas
Label: R & S
Genre: Electronica / Ambient / Experimental
Availability
LP x2 €28.99

Out of Stock
The Maghreban aka Ayman Rostom is one of the most unique and respected beat makers working in house and techno today. His dusky grooves, heavy bass pressure and clanking drum breaks sound like they were dredged from the bottom of the river Nile, imbued with a maverick personality that shares kinship with the likes of Detroit's Andres and Waajed, making him a perfect fit on R&S's storied roster of pioneering outsiders.

In the past four years, he has released a slew of hotly tipped 12"s, mainly on his own label, Zoot, as well as French label Versatile and Bristolian beat mongers Black Acre.

Also known as acclaimed hip-hop producer Dr Zygote (also one half of Eglo's Strange U) Rostom has gained a reputation as a producer's producer, garnering heavyweight tastemaker support from the likes of Benji B, Ben UFO, Nicolas Jaar, Trevor Jackson and many others.

After the extended clamour for a Maghreban long player, the wait is over as Rostom is finally ready to unleash his debut album '01DEAS'. "The 12" format is great for the club, but I wanted to go a bit deeper with it, and explore different moods and ideas," Rostom explains.

Packed with richly satisfying cuts, the album draws on the Maghreban's usual musical themes; 90s Home Counties rave, '93 dark jungle, 80s Steppers reggae, Broken Beat, dark modal jazz, colonial Afro Rock and psychedelia.