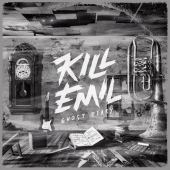 Kill Emil
Ghost Diary
Label: Postpartum Records
Genre: Freestyle / Nu Jazz / Funk / Afro
Availability
LP 180gr €27.99

Out of Stock
Mamaletta (aka Mariletta Konstantara) is an MC-singer-songwriter from Athens, Greece. She spent a decade in the U.S. where she studied composition and arrangement, and worked as a performer playing her Hip-Hop, Reggae, Jazz, Soul and World music, live, and recording with bands from 2006 till 2015.

She now presents you with her Debut Album "A Better Place" with full production by Kill Emil, a DJ and producer also based in Athens, Greece -by way of Brazil- who since 2009, has created a very interesting and diverse discography of powerful beats and endless chill vibes.

The Album "A Better Place" is composed of 10 tracks, songs talking about Gratitude, Acknowledgement, Justice, Love, Hope, Solutions, and New Beginnings! Hip-Hop meets Reggae, Dub, Dancehall and Drum n' Bass, so it's both relaxing and explosive at the same time!
Highlights on this new release include the 'trippy' yet grounded "Problems", the powerful "Dear Law", the mantra of empowerment "Acknowledge the Power", and of course, "A Better Place" itself carries a calm yet unbreakable force!

With Kill Emil's magic music production, and Mamaletta's unique voice we are all guaranteed to go to a place out far...and then back to ours, to keep trying as much as we can to make it A Better Place.