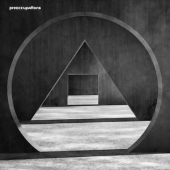 Preoccupations
New Material
Label: Jagjaguwar
Genre: Rock / Pop
Availability
LP + MP3 COUPON €22.99

Out of Stock
Preoccupations' songs have always worked through themes of creation, destruction, and futility, and they've always done it with singular post-punk grit. The textures are evocative and razor-sharp. The wire is always a live one. But while that darker side may have been well-explored, that's not quite the same as it being fully, intensely lived. This time it was, and the result is 'New Material', a collection that broadens and deepens Preoccupations to a true mastery of their sound. In it lies the difference between witnessing a car crash and crashing your own, between jumping into an ocean and starting to swallow the water.

"It's an ode to depression,' singer Matt Flegel says plainly. "To depression and self-sabotage, and looking inward at yourself with extreme hatred." Typically resilient, the months leading up to recording 'New Material' brought a new order of magnitude to feelings that had been creeping up on Flegel for some time. He'd written bits and pieces of lyrics through the course of it, small snippets he hadn't assigned to any one thought or feeling but were emblematic of a deeper issue, something germinating that was dense and numb and fully unshakeable. As the band began writing music, that process gave shape to the sheer tonnage of what he'd been carrying. With virtually nothing written or demoed before the band sat down together, the process was more collaborative than before. It was almost architectural, building some things up, tearing others down to the beams, sitting down and writing songs not knowing what they were about. But for Flegel, it led to a reckoning. "Finishing 'Espionage' was when I realized," says Flegel. "I looked at the rest of the lyrics and realized the magnitude of what was wrong."

Limited grey streak vinyl.