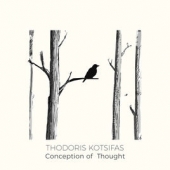 Kotsifas Thodoris
Conception Of Thought
Label: Thelyst Records
Genre: Jazz / Avant Garde
Availability
CD Digi / Cardboard €11.99

Dispatched within 5-10 working days
Thodoris Kotsifas – guitar
Vangelis Stephanopoulos – piano, keyboards
David Lynch: Tenor Sax
Dimitris Tsakas: Alto Sax
George Georgiadis – bass
Alexandros Drakos Ktistakis – drums

The first recording by the Thodoris Kotsifas Group features the guitarist along with his Sextet. The music is quite distinctive, floating rather than swinging, electric but not rockish. This music grows in interest with each listen.

Kotsifas, who is heard on both acoustic and electric guitar, is appealingly melodic on his own compositions. As a guitarist, Kotsifas favors an airy sound along the lines of Pat Metheny and Jim Hall, and as a composer, his influences range from Metheny to Oregon to Weather Report. Conception of thought is jazz mixed with elements of rock, folk, and European classical music. Actually, the playing on this album is largely, though not exclusively, acoustic. Kotsifas plays a lot of acoustic guitar on his album. And while he clearly has chops, he doesn't beat listeners over the head with them, or his technique. Kotsifas is very much a storyteller, and that storyteller perspective yields excellent results on Conception of throught.