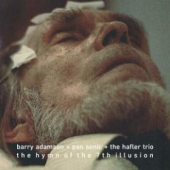 Adamson Barry + Pan Sonic + Hafler Trio
The Hymn Of The 7th Illusion
Label: Cold Spring
Genre: Electronica / Ambient / Experimental
Availability
LP 180GR +MP3 COUPON €21.99

Dispatched within 5-10 working days
Pan Sonic, arranged and edited by Barry Adamson, with an additional re-arrangement by The Hafler Trio.
Here Barry Adamson and Pan Sonic have composed a 12 minute music piece that is performed by the Hljomeyki choir and Pan Sonic. "...a blend of an Icelandic choir performing Barry's (treated) microtonal, urgent score is slowly infiltrated, first with an electronic breath and then by well-rounded bass that evolves into a satisfactory crescendo before the scary humhum returns... highly successful" (Vital Weekly). Originally released on CD by Icelandic label Kitchen Motors in 2001, now released on vinyl for the first time by Cold Spring.
Produced by Barry Adamson, Jóhann Jóhannsson, and Pan Sonic. The cover art features Icelandic electronic composer Magnús Blöndal Jóhannsson having a brain scan performed while listening to this disc.
180g vinyl with matt card sleeve. Comes with download card