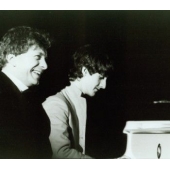 Durutti Column
A Paean To Wilson
Label: Kooky
Genre: Post Rock / Avant Rock
Availability
LP x2 €22.99

Out of Stock
Paean to Wilson is arguably Vini Reilly and the Durutti Columns most important and consistent piece of work since the demise of the original and seminal Factory Records in the early 1990's. It was commissioned MIF (Manchester International Festival of Music), July 2009. Vini had already composed pieces for Tony to listen to whilst he was ill in hospital and it was from here that the project developed. The opening night of the three sell-out festival shows formed part of the BBC2 'Culture Show' coverage on the event.
Dave Simpson – MIF Review – The Guardian 20/7/09 4 out of 5 ' Near the beginning of the final night of the Durutti Column's 70-minute international festival tribute to Tony Wilson, A Paean to Wilson, guitarist Vini Reilly announced that he wouldn't be singing: "So you won't have to put up with my awful voice and schoolboy lyrics." If Wilson was with us, he would have chuckled. The Granada presenter-turned-Factory Records boss spent years urging his first signing to stop singing, and concentrate on the virtuosity that led Red Hot Chili Pepper John Frusciante to call Reilly "the greatest guitarist in the world". Two years after his death, Wilson got his way, one of many lovely touches in a very personal, emotional and often warmly funny musical tribute. Wilson signed Joy Division and Happy Mondays, yet never gave up on this cult band he adored, working with them even after his legendary label went bankrupt.
A complex man, Wilson was an academic thinker who revelled in Steve Coogan's affectionate, Alan Partridge-style send-up of him as a "twat". And this tribute was no different. At one point, Reilly – known for melancholy – launched into something resembling an Irish jig. "Tony loved to laugh," he explained. "He loved absurdities." After the humour came exquisitely mournful music. With Reilly and drummer Bruce Mitchell augmented by bass, keyboard, violin, electric piano, drum machine and trumpet, the band's beautiful pieces reflected Wilson's love of rock and classical. Reilly's plangent guitar work showed grief's emotional spectrum, from sadness to overdriven anger. As in life, Wilson had the last word, his recorded voice expounding thoughts on socialism with an eerie echo. Silence followed as Manchester pondered the loss of one of its truly larger-than-life characters. Then everybody cheered.' The bonus disc first appeared in 2005 via Wilson's project F4, as being the fourth version of Factory Records. Originally it was download-only release, Heaven Sent (It Was Called Digital, It Was Heaven Sent). This is the first time that it has appeared on a physical format. It was a six track CD of personal dedications by Vini ironically the last piece being Anthony. Ever critical of Vini's voice, but ever a fierce champion of his talent, the late Tony Wilson would surely appreciate this instrumental tribute by The Durutti Column.
Blue vinyls.