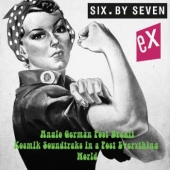 Six By Seven
Exii (Saturday Night Sunday Morning)
Rock / Pop
LP €20.99
Sorry, currently out of stock.
Suberb sounding follow up to the internet only Kickstarter funded six by seven:EX krautrock album. This album sees Chris Olley delve further into his roots in German 70's music and explore the more electronic pulsing grooves of Kosmic psychedelia. Made only with instruments from the 1970's and recorded onto 16 track tape this record has been many years in the making.
Limited edition of 300 copies.