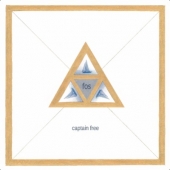 Fos
Captain Free
Label: Near The Exit Music
Genre: Electronica / Ambient / Experimental
Availability
LP + MP3 COUPON €18.99

In Stock
"Captain Free has a unique charm about it, powering along like a lost motorik gem."
ELECTRONIC NORTH

'Captain Free' is London-based, Greek-born artist Katerina Koutouzi's third album, released on her own label Near The Exit Music. It takes you on a journey from Dalston's neon market stalls, reflected in kerbside puddles, to clear Greek island waters; squidgy beats and airy synths, complemented by a gentle voice full of promise, blow over the listener like a familiar summer breeze.

She brings together traditional acoustic instruments like the daouli Greek drum, ancient instruments like the conch-shell, other acoustic instruments including the piano and the accordion and electronica-style programmed beats using pebbles, shells and bells.

Katerina often sings in different languages, too. She blends styles and song structures using simple archetypal melodies and ambient soundscapes, using her own field recordings of natural sounds and minimal instrumental explorations.

Previous support for Fos has come from Boiler Room, BBC6 Music, Cyclic Defrost ("There's a lot going on here, and Koutouzi juggles each bristling element with finesse"), Sic Magazine ("Modern meets traditional on this slice of Greek folktronica") and Norman records ("it's brilliant").