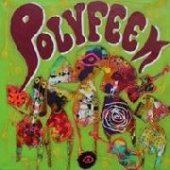 Polyfeen
Silhouetter
Label: Kommun 2
Genre: Rock / Pop
Availability
LP €22.99

Dispatched within 5-10 working days
Limited edition (200 copies) on GREEN VINYL. Here's the 2017
album by Danish '70s prog-psych cult legends Polyfeen, recorded
with a (partly) reunited line-up, including two new members.
Musically, 'Silhouetter' is comparable to the 1972 recordings
as heard on the o.o.p. live-LP 'Langt Ude T Skoven' (issued by
Orpheus Records in 2005). In other words: prepare yourself for
intense progressive/psychedelic compositions, wrapped up in
stoned atmospheres. The material consists of re-recorded oldies
as well as newly written songs. The LP is recommended to fans of a.o. Alrune Rod, Rainbow Band and Hurdy Gurdy.