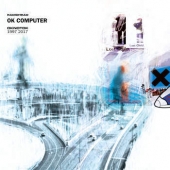 Radiohead
Ok Computer - Oknotok 1997-2017
Label: Xl
Genre: Rock / Pop
Availability
LP x3 +MP3 COUPON €31.99

Out of Stock
Other Formats
Limited blue vinyls edition.
OKNOTOK features the original OK COMPUTER twelve track album, eight B-sides, and the Radiohead completist's dream: "I Promise," "Lift," and "Man Of War." The original studio recordings of these three previously unreleased and long sought after OK COMPUTER era tracks finally receive their first official issue on OKNOTOK.
All material on OKNOTOK is newly remastered from the original analogue tapes.
OK COMPUTER was originally released on various dates ranging from May to July 1997. Produced by the band and Nigel Godrich, the album features the singles "Paranoid Android," "Karma Police," "Lucky" and "No Surprises," and is widely cited as one of the greatest works of Radiohead's-- or any artist's—catalogue. OK COMPUTER was the first Radiohead record to reach #1 in the UK and to be nominated for the Album of the Year GRAMMY. In 2015,
The National Recording Registry selected OK COMPUTER to be preserved in the Library of Congress as a recording that has proven "culturally, historically, or aesthetically significant."