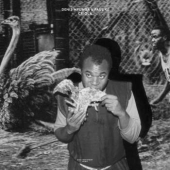 Mpunga Denis & Paul K
Criola (Music From Memory)
Freestyle / Nu Jazz / Funk / Afro
Availability: Usually dispatched within 5-10 working days.
MFM 019 will be an EP of works by Denis Mpunga and Paul K. Combining elements of traditional African music with experimental electronics, the Belgian/Congolese duo released only a handful of tracks, scattered across a few rare LP and cassette compilations that were put out in the mid eighties by obscure european labels.
This release also includes a few previously unreleased songs that were found on the original master tapes.
Tracklist:
1. Intermezzo 03
2. Criola
3. Intermezzo 02
4. ---!!! KWE
5. Dou-Niya
6. Intermezzo 01 V3
7. Funyaka
8. What
9. Veronika 02