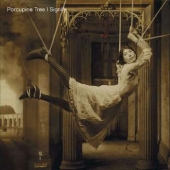 Porcupine Tree
Signify
Label: K Scope
Genre: Rock / Pop
Availability
LP x2 180gr €28.99

Out of Stock
'Signify', released in 1996, was the first complete album recorded as a full band, and fuses numerous rock and avant-garde styles, absorbing many influences but relying on none.
It is regarded by the band (and many fans) as one of their finest works and established the band as a highly respected force in the musical underground. An essential part of any Porcupine Tree fan's collection, this re-release on 180g heavyweight audiophile vinyl contains three rare and sought-after B-sides from the era.
Recorded at No Man's Land Studio with production & mixing duties handled by Steven Wilson, 'Signify' features the single 'Waiting' which entered the UK indie and UK national chart attracting airplay all over Europe.
Kscope are re-releasing the band's most popular record from the era as a double LP on audiophile vinyl presented in gatefold packaging this April.
Steven Wilson is currently enjoying global chart success with his fourth solo album 'Hand. Cannot. Erase.', is continuing to tour worldwide, and is releasing the anticipated new album with Blackfield, his partnership with Israeli singer Aviv Geffen, in February 2017.