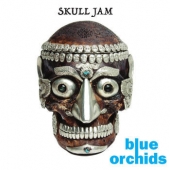 Blue Orchids
Skull Jam
Label: Tiny Global Productions
Genre: Rock / Pop
Hot on the heels of their recent album, "The Once And Future Thing," Blue Orchids are back with a surprising new 10" EP and an ongoing tour with the mighty Nightingales. This is their first EP in over twenty years and it spans every aspect of the band's sound and ideas.
The title track, "Skull Jam" is a short slice of pop-noise which harkens back to the off-kilter scree of early songs like "Disney Boys." Their 1982 debut album had an embryonic recording of "Hanging Man," constantly revised through the years, including a nascent Brit-pop styled take performed with Craig Gannon of The Smith for Snub TV. This new version was recorded as a warm-up during the recording of their last album and mirrors recent live renditions, with a meteoric motorik vibe that the original never hinted at. Originally scheduled as the a-side and b-side of a 7" single, no one was happy with the necessity of editing "Hanging Man" down from its seven-minute length to meet the demands of the running time for a single, hence the decision to expand the single to an EP and include the song in its full glory.
"The Devil's Answer" was a hit for Atomic Rooster back in the early '70s, and its inclusion here proves that Martin Bramah and crew can imprint their sound and vision even on the least likely tunes! But for many, the plum is "Work Before The Moon Falls." Written shortly before Bramah's original departure from The Fall, its lyrics were held back by Mark E Smith for a different tune, which became a standout track on the second Fall album, "Dragnet." The music, written entirely by Bramah, was given new words and released as the Blue Orchids' second single, "Work." "Work Before The Moon Falls" provides a hint of how The Fall might have sounded if Bramah had remained for their second album - much of which, uncredited (of course!) had music written by Bramah.