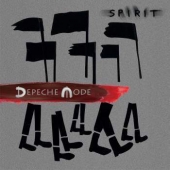 Depeche Mode
Spirit (Columbia)
Electro / Electro-Rock
Availability: Usually dispatched within 5-10 working days.
Other Formats:
Columbia Records release the eagerly anticipated new album from iconic British band DEPECHE MODE. Produced by James Ford (of Simian Mobile Disco fame & producer of Foals, Arctic Monkkeys, Florence & The Machine).
Deluxe edition, includes 5 exclusive remixes by Depeche Mode _ 28 pg booklet.