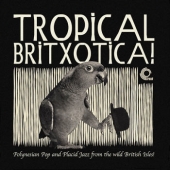 Various Artists
Tropical Britxotica! Polynesian Pop And Placid Jazz From The Wild British Isles!
Label: Trunk
Genre: Freestyle / Nu Jazz / Funk / Afro
The all new and incredible follow-up to the successful Britxotica! and Britxotica Goes East! LPs. But this time Jonny Trunk and legendary DJ Martin Green take you to a magical musical place full of tropical delights – with songs of heatwaves, coral reefs, Haitian rituals and treasure islands, not forgetting the stormy seas and the odd hurricane. 16 tracks in all from a post war era of musical adventure – this is Britxotica at it's very hottest, most exotic and very best - just incredible, rare, lost and exotic music from the wild British isles!
HISTORY:
Britxotica! (pronounced "Britzotica") neatly describes an odd and yet undocumented pre-Beatles British musical scene where famed UK composers as well as unknown singers and bandleaders threw convention on holiday and went wild wild wild! For this, Part Three of our planned Britxotica series, we head to the South Seas, for a musical adventure of stormy seas, Hawaiian honeymoons, spooky rituals, dreamy walks through mango groves and a few sips from the juicy coconut. But this is more than just exotic music, the talent here is breathtaking – Kenny Graham, George Melley, Ted Heath, Malcolm Lockyer , Edmundo Ros and more - legendary artists but here adventuring into unknown territory with incredible results. There are songs and instrumentals here to charm and even beguile – there's even an amazing British cover of Quite Village – when did you ever hear one of those? This is wonderfully obscure music, and only Trunk records could compile and package such a compilation of bizarre and super rare British music so superbly. This all new compilation of British treasures is like no other, and will have you booking your ticket to the South Seas for Christmas. And stayed tuned for Britxotica Volume VI…