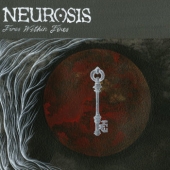 Neurosis
Fires Within Fires
Label: Neurot
Genre: Stoner / Post Metal / Industrial Rock
POST-METAL/HARDCORE PUNK LEGENDS CELEBRATE THEIR 30TH ANNIVERSARY WITH NEW ALBUM.

FEATURING EXQUISITE ALBUM ARTWORK FROM THE RENOWNED THOMAS HOOPER AND THE STELLAR RECORDING WORK OF THE GROUP'S LONGSTANDING ENGINEER STEVE ALBINI, FIRES WITHIN FIRES IS AT ONCE A BEAUTIFUL AND FORBIDDING WORK OF MASTERY.
OVER THE COLLECTIVE'S PAST TEN ALBUMS, NEUROSIS HAVE INVITED LISTENERS TO JOIN THEM ON THE PATH THEIR MUSIC CARVED. GOING BEYOND THE REMARKABLE, NEUROSIS BECAME UNFORGETTABLE.
THIS YEAR FINDS NEUROSIS TAKING THEIR MOST DOMINANT STEP YET WITH THEIR ELEVENTH FULL-LENGTH, FIRES WITHIN FIRES. THREE DECADES IN THE MAKING, FIRES WITHIN FIRES IS A TESTAMENT BOTH TO THE HISTORY AND FUTURE OF NEUROSIS. STRIKING THE BAND'S SIGNATURE BALANCE BETWEEN LIGHT AND DARK, BEAUTY AND REPULSION, FIRES WITHIN FIRES GIVES DUE TO ITS PREDECESSORS WHILE PROGRESSING FORWARD INTO THE UNFAMILIAR AND FORMIDABLE.
FOR MEMBERS SCOTT KELLY, STEVE VON TILL, JASON ROEDER, NOAH LANDIS, AND DAVE EDWARDSON, THE ALBUM IS A WELCOMED COMPANION TO WHAT'S NOW BEEN A 30-YEAR-LONG TREK INTO THE INFINITENESS OF SOUND AND SIGHT COALESCING INTO CONSCIOUSNESS. AN ALL-ENCOMPASSING REMINDER THAT TRANSFIGURATION IN SOUND REMAINS THEIR MOST COMMANDING AND INIMITABLE STRENGTH, FIRES WITHIN FIRES IS THE NEXT POWERFUL STEP TOWARDS A DESTINATION THAT HAS LONG BEEN AND CONTINUES TO BE THE VERY HEART OF "BECOMING" FOR THE MIGHTY NEUROSIS.