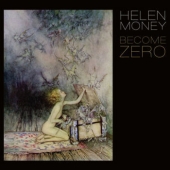 Helen Money
Become Zero
Label: Thrill Jockey
Genre: Post Rock / Avant Rock
Availability
CD Digi / Cardboard €16.99

Dispatched within 5-10 working days
Debut release on Thrill Jockey from Helen Money aka cellist Alison Chesley.
'Become Zero' features Jason Roeder of Sleep and Neurosis and Rachel Grimes of Rachel's.
Much of 'Become Zero' was recorded at collaborator and co-producer Will Thomas' Los Angeles studio. Additional recording was done at Grimes' studio outside of Louisville, Kentucky and at East/West Studios in Hollywood.
While Chesley had previously exclusively recorded analogue to tape with Steve Albini she went in a new direction for her Thrill Jockey debut. "I wanted to explore the freedom provided by digital recording," Alison explains. "There is simply more flexibility with regards to multi-tracking... such as interfacing with electronic sounds, supplementing tracks with MIDI sounds, and ease of movement between the analog and digital domain. 'Become Zero''s songs called for a much wider palate of sounds."
CD version packaged in a 4 panel mini-LP style gatefold package. LP version pressed on virgin vinyl with free download coupon.
In the past Helen Money has toured with an incredible array of musicians, including Shellac, Neurosis, Sleep, Russian Circles, Magma, Agalloch, Earth and Nina Nastasia. Both Portishead and Shellac selected her for their respective All Tomorrow's Parties festivals.
Helen Money toured with Bob Mould in 2015, including a performance on the Late Show with David Letterman. Her history of collaborations with Chicago improvisers is extensive.