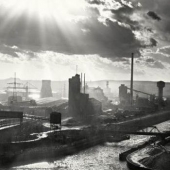 Biasio Melanie De
Blackened Cities (Play It Again Sam)
Freestyle / Nu Jazz / Funk / Afro
MLP €17.99
Sorry, currently out of stock.
• Much lauded since the release of 'No Deal', her second album in 2014, Melanie De Biasio announces details of a new composition, 'Blackened Cities', through Play It Again Sam.
• Revered in her native Belgium and often referred to as the Belgian Billie Holiday, the classically trained flautist and vocalist was heralded by Gilles Peterson on the release of 'No Deal' as one the most exciting artists in the jazz world. A series of reworkings from various artists curated by Peterson resulted in the acclaimed 'No Deal Remixed' album. Together with long-term musical associates pianist Pascal Mohy, Pascal Paulus on vintage synths, Samuel Gerstmans on double bass and drummer Dre Pallemaerts, 'Blackened Cities' continues to see De Biasio mine an extraordinary vein of immersive splendour .
• Taking inspiration from a post-industrial landscape, a backdrop of unexpected hope rediscovered in cities such as Manchester, Detroit, Bilbao and De Biasio's home city of Charleroi, 'Blackened Cities' emerges... As De Biasio says, "I don't think anyone, including me, was expecting a 25-minute piece which wasn't a successor to 'No Deal', or anything other than a collection of new songs. I followed what the music told me, like a gut feeling."
• The ensemble create an emotive and sensuous presence, coming into earshot on a ripple of orchestration patiently awaiting De Biasio's introduction. The rhapsody that froths and foams for nearly half an hour surpasses the song format. 'Blackened Cities' rolls and swells with both a physical sensation and intimate journey encapsulating the instantaneous origins of its birth, undergoing minimal post- production, as De Biasio adds; "everything or almost everything was there in that collective moment on autumn afternoon."