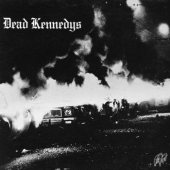 Dead Kennedys
Fresh Fruit For Rotting Vegetables
Label: Cherry Red
Genre: 80s Wave / Rock / Pop / Punk
Availability
LP 180gr €23.99

Out of Stock
180g LP + POSTER + 2 x 7" SLEEVE PRINTS (RE-PRODUCTION)
What more is there to say about this seminal album?
A masterpiece of tight, political American punk rock and a cornerstone album in any punk or hardcore collection. Originally released in September 1980, 'Fresh Fruit For Rotting Vegetables' has been certified Gold by the BPI and continues to be discovered and rediscovered by young and old alike.