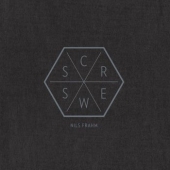 Frahm Nils
Screws Reworked
Label: Erased Tapes
Genre: Electronica / Ambient / Experimental
Availability
LP x2 +MP3 COUPON €26.99

Dispatched within 5-10 working days
A collection of nine reworks crafted by fans and selected by Nils himself form the 'Screws Reworked' re-issue, also featuring his original 'Screws'

The 2012 album 'Screws' by Nils Frahm, was the result of inspiration from his fans and friends while he recovered from an unfortunate accident, which saw him fall from his bunk bed located directly above his studio, which resulted in a broken thumb. These nine intimate recordings were offered to fans to download for free and in return fans thanked Nils by sending him their audio and visual reinterpretations.

Fascinated by the results, Nils then publicly asked his fans to submit their reworks or any form of art that was inspired by the release and all these submissions have been collected since on a dedicated website: screws.nilsfrahm.com. It gave birth to the 'Screws Reworked' project from which Nils selected nine reworks to feature on a special edition re-issue which also includes his original 'Screws'.

Helios, Bug Lover and Plasma Rüby are amongst Nils's final selection for 'Screws Reworked', housed in an inner sleeve a visual rework created by Adam Young aka Saturnine.