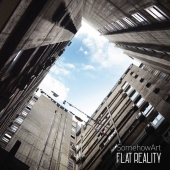 Somehowart
Flat Reality
Label: Melting Records
Genre: Freestyle / Nu Jazz / Funk / Afro
'Flat Reality' is SomehowArt's first release for Melting Records and his debut solo album on vinyl 12''. Its nine tracks provide a sharp glance into his world, filled with DJ-centric rhythms and mind-blowing tones harking back to the '90s golden age of the Mo'Wax and Cup Of Tea labels.

A pair of fine guest vocalists make appearances, too:

Calmdown - cålɱ↓, a Greek singer living in Berlin lays down some seriously gorgeous vocals for the languid "Another Day", and the UK-based female rapper Lady Paradox represents her unique flow on "Thoughts For April".

In total, 'Flat Reality' is a shining accomplishment for SomehowArt, transmitting his reflective inner vibe to nodding heads worldwide.