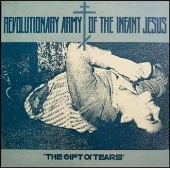 Revolutionary Army Of The Infant Jesus
The Gift Of Tears
Label: Feral Sounds
Genre: 80s Wave / Rock / Pop / Punk
Having recently released the new RAIJ album, Beauty Will Save The World, Occultation Recordings are also distributing the recent Third Eye/Feral Sounds reissue of the band's debut, The Gift Of Tears. One of the most overlooked releases to come out of the experimental music scene in mid – eighties England.
For the first time since its original debut in 1987, The Gift Of Tears by Revolutionary Army of The Infant Jesus will be available on vinyl! The Gift Of Tears has largely remained unknown, albeit highly sought after in collectors' circles. Originally released on Probe Records in 1987, it remains an undeniably essential archetype of performance art set to music. RAIJ have mainly avoided, interviews or media attention which has elevated the mystery surrounding the band, its origin and subsequent cult following.
To this day, RAIJ have continued to let their music do the talking and have recently begun playing select shows in Europe as well as releasing their first new album in over 20 years. There is something to be said for a band that created an album so enigmatic yet familiar that with time still proves beauty truly never fades.