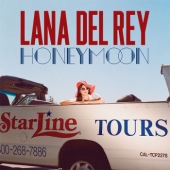 Del Rey Lana
Honeymoon (Polydor)
Rock / Pop
Availability: Usually dispatched within 5-10 working days.
This is the 3rd studio album from Lana Del Rey, her last record 'Ultraviolence' when to #1 in 74 countries and she has worldwide album sales in excess of 9 million. Following the global first play and interview on Zane Lowe's Beats1 show, Annie Mac had 'High By The Beach' as her Hottest Record on Radio 1 which included two spins of the track back to back and an interview with Lana.
Last month Lana released the title track to Honeymoon which has already accrued over 4 million YouTube plays. Last week Lana released the video to her first single 'High By The Beach'. Produced by Ben Cooper and directed by Jake Nava in Malibu, Los Angeles, the video has since accrued over 9million views on YouTube.