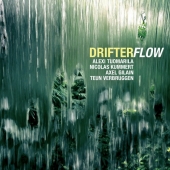 Drifter
Flow
Label: Edition Records
Genre: Jazz / Avant Garde
Availability
LP + MP3 COUPON €24.99

In Stock
Other Formats
FLOW is the new album from the Belgium based quartet DRIFTER, co-led by Finnish pianist Alexi Tuomarila and Belgium saxophonist Nicolas Kummert, who won huge praise and acclaim across Europe and Australia as the Alexi Tuomarila Quartet in the early 2000's.
Tuomarila shared the stage with some of the biggest names in jazz and his international profile was rocketing when, without warning label Warner Jazz ditched all jazz and classical acts leaving the band without any clear management or career direction.
In the following decade during which the pianist and saxophonist expanded their musical horizons with constant touring, the band's special relationship was not forgotten and, finally, the time was right for both Tuomarila and Kummert to reform the original quartet with a new sense of purpose and energy under the new collective name of DRIFTER.
This next phase in the quartet's history sees the band fuse the youthful energy and vibrancy of ten years ago with the experience of a decade on tour playing with some of the biggest names on the European jazz scene.
As Tuomarila explains: "The music means so much more now. Ten years ago, we were just playing tunes that we loved to play. Now the music comes from within us and somehow encapsulates the feelings of the last ten years: having our recording contract taken away, the development of our friendship as a band and the greater sense of purpose we all have in our lives. It's so exciting for us'.
Edition Records' recording connection with Alexi go back to the release of his acclaimed trio album. Seven Hills (2013), but as a label we've been fans of the quartet since they first emerged onto the European scene and have watched their separate careers with great interest in the intervening decade. So it is with great pleasure that we are able to work with the group and help restore them to their rightful place at the top of the European, and world, jazz tree.
This young band, in their 20s when they recorded O2, have been hugely influential on a generation of young jazz artists.